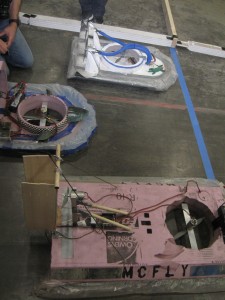 From Friday, Jan 27 to Sunday, Jan 29 a few of my friends and I spent a lot of time at Artisan's Asylum in Somerville, MA. We weren't there just for fun (though we had plenty of fun). Instead we were there to design a working RC hovercraft in 48 hours. The participants from BUILDS (BU's hackerspace) were divided up into two teams:
Team McFly and the Hoverboard: Christopher Woodall (me), Ian Felder, Marc Beneck and Alejandro Bancalari
The Cult of the Devouring Fan and Brogle the Insatiable: Russel Shomberg, Patrick Ehrlicher, William Gullotta and Alex Whittemore
In the beginning we were given the electronics, a piece of pink foam, some wood and access to most of the tools in Artisan's Asylum. There is no real documentation from either my group's design, or the other BUILDS group's design; however we certainly had a ton of fun and we have pictures and videos. Also, it was my first time helping design a Radio Controlled vehicle and it was a ton of fun (which I hope to do again).